What are Snow Gums?  Technically THE 'Snow Gum' is what used to be known as Eucalyptus pauciflora but has now been renamed as Eucalyptus pauciflora subspecies pauciflora ! The challenge with common names is that the name 'Snow Gum' is not only used on any of the subspecies of Eucalyptus pauciflora, such as Eucalyptus p. subs niphophila – The 'Alpine Snow Gum' and Eucalyptus p. subs debeuzevllei – The 'Jounama Snow Gum', but also on the less closely related Eucalyptus coccifera – The 'Tasmanian Snow Gum', Eucalypus gregsoniana – The 'Wolgan Snow Gum' and Eucalyptus lacrimans – The 'Weeping Alpine Snow Gum'! And that is just three in a very long list, which is why we always use the full botanical name that most amateurs hate so much!
The less specific use of 'Snow Gum' is usually used to describe many of the species of Eucalyptus that are native to South East Australia and Tasmania and that grow close to or above the snow line high in the mountains and which often have, but not always, attractive pure white or white mottled bark when mature. The harsh winter conditions they endure in these areas is what makes them so tough and so valuable to us in the UK, being able to withstand strong winds and low temperatures, down to -18C, depending on species and age! The only thing they don't like is very wet soils, particularly areas prone to seasonal flooding.
If you have just purchased one of our trees from a Garden Centre and scanned the QR Code on the label, Thankyou, we hope you will enjoy it for many years to come. Below are some links to articles on our website that will help you get your new new tree succesfully established, we strongly urge you to read them – as wonderful as Eucalyptus are, they need to be handled and cared for slightly differently to most other plants you may have purchased in the past! And below these are links to some of the individual species you may have purchased.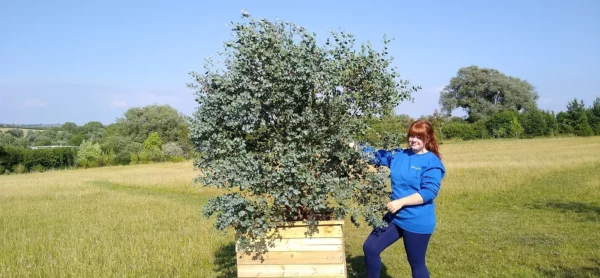 All About Eucalyptus
Eucalyptus grow very well in containers, provided you stick to their rules! A version of this article was originally featured in the 2020 edition of
Read More »