Garden Centre Screening Trees.
This is a list of our most popular Eucalyptus trees for screening being offered for sale by Garden Centres.
If you have just purchased one of our trees and scanned the QR code on the label, Thankyou. Here are some essential notes we strongly recommend you read before planting your new Eucalyptus trees, links to the details on the individual varieties can also be found below;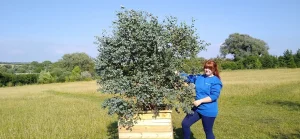 Eucalyptus grow very well in containers, provided you stick to their rules! A version of this article was originally featured in the 2020 edition of
Read More »
Beautiful medium-sized evergreen tree with rounded juvenile silvery blue-green leaves;  long weeping glaucous adult foliage. Eucalyptus archeri is hardier and smaller than Eucalyptus gunnii.
Why we like this variety:
Easy to grow, can be pruned to keep it under control
Train to form
Read More »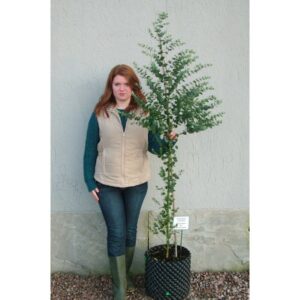 Silvery sage-green, aromatic foliage on a moderately sized tree, super flowers for bees, hedge-screen and cut foliage.
Rarely found in the wild, this is a good all round variety – it is much under-rated in cultivation and  should be grown more often as it has
Read More »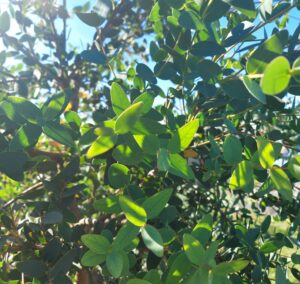 One of the absolute best Eucalyptus EVER not only as a screening tree for privacy, but for lots of purposes.  Perfect for the UK with many attributes. Easy to grow.
Why we like this species:
Well behaved moderate sized evergreen tree or
Read More »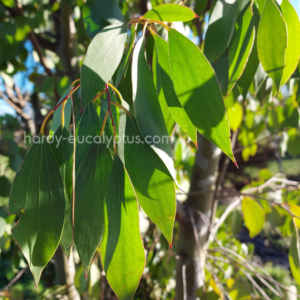 Beautiful flowers, foliage and bark make this a superb specimen evergreen tree. It develops a dense crown in maturity and so is a good choice of tree to provide shade.
Why we like this variety:
Elegant weeping habit of young foliage
Beautiful flowers
Fruity
Read More »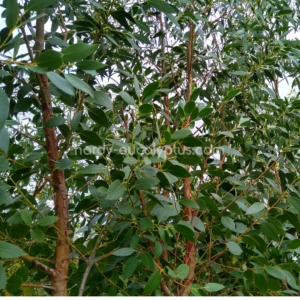 This species has a valuable, rare combination of desirable attributes
Evergreen tree that will grow in a wet clay soil and enjoy it!
Looks at home in the British rural aesthetic.  It doesn't look foreign
Train as a small standard for screening
Superb in
Read More »